Back to Hockey: Hockey Gloves + Goalie Chest & Arm Protectors and Pants

Gloves are an essential piece of gear when you take to the ice. Not only do they keep you protected from slashes and checks, but they are your connection to your stick. Here's a look at the newest top protective lines for the new season. Shop with HockeyMonkey and return to the rink in confidence.
Pro level protection Features a triple density foam with PORON XRD in the backhand. The new AMP cuff keeps your wrist covered in all situations. An ergonomic fit and 3-piece flex thumb allows for incredible stick connection. A new feature, the Shotboost finger is a 3-Piece split Middle and Ring finger that improves feel and optimizes stick control when shooting.

The CCM Jetspeed FT4 Pro hockey glove takes the features from the previous generation and improves them in a modern design that offers premium protection while staying comfortable and looking great. These durable gloves are designed to hold up in the high wear and high impact areas while still allowing for adequate airflow to keep your hands cool and dry during a game. An all-new back roll design that follows a perfectly anatomical shape to better fit your hands and will give you optimal mobility. The Pro Clarino palm features a seamless palm-to-cuff transition inside & out for ultimate comfort and optimal interaction with your stick.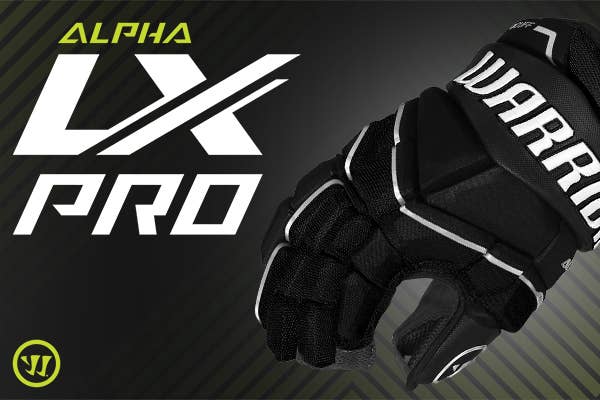 Warrior's most protective glove featuring our high-end VN and HD IXPE foams that keep your hands protected against the hardest of impacts. Hybrid Taper Fit allows the glove to contour to the natural shape of your hand, maximizing mobility and improving protection. Pro Cuff extends your range of motion improving puck handling while still protecting your wrists from slashes. Responsive mesh gussets and Warrior's AXI-FLEX THUMB accompanied by the anatomical stretch backhand give the LX Pro gloves a snappy, game ready feel right off the shelf.

With a tapered fit designed to take the shape of the player's hand, combined with the AX SUEDE palms and gussets, the CATALYST 9X Gloves offer complete comfort and wrist mobility. True's new ergonomic flexible cuff offers players superior wrist mobility, while the all-new three-piece hinge thumb provides increased flexibility and unmatched hyperextension protection. Designed with an ergonomic back hand and three-piece finger features for ultimate flexibility and increased protection.


Good protective gear is a must for every goalie. Today's protective gear gives you ultimate protection without sacrificing mobility around the crease or weighing you down. Here's a look at the newest top protective lines for the new season. Shop with GoalieMonkey and return to the rink in confidence.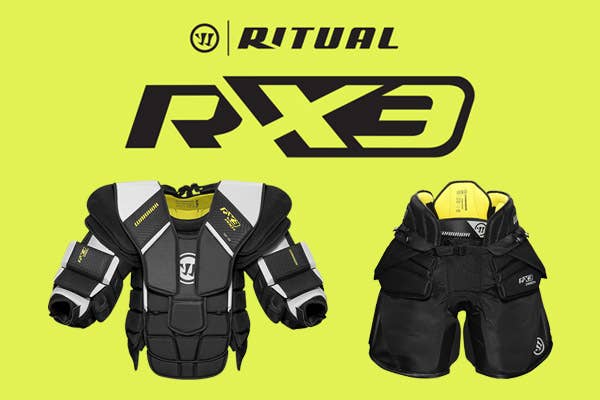 The Warrior Ritual X3 Pro+ chest & arm protector features superior protection using Shockshield design and their AxyFlex+ technology optimizes protection & mobility. Maximum coverage shoulder floater design and chest block design for maximum protection. Super lightweight design doesn't sacrifice protection with X-Foam & HyperComp reinforced protection. The Ritual X3 Pro+ pants feature maximum protection with redesigned ergonomic hip & kidney protection. The streamlined thigh increases mobility, whileHyperComp reinforced Flex Plates increase protection.

Designed for today's goaltender, the EF5 Pro includes a new Max Flex fit system which combines ultimate mobility and superb protection. The shoulders have specific quick release Velcro adjustments for a customizable fit and compression-molded HD foam to protect against hard shots. Molded D3O foam protects the heart from high-velocity shots and multi-segmented HD/LD foam maintains a square shape to the shooter with flexibility when moving around the crease. Independent adjustable elbow caps stays on your arm, providing quick movement and ultimate coverage. The CCM Pro pants feature strategic stretch zones which allow uninhibited mobility to make any save necessary. Flexmotion design with segmented foams for ultimate flexibility, with D30 for extra protection.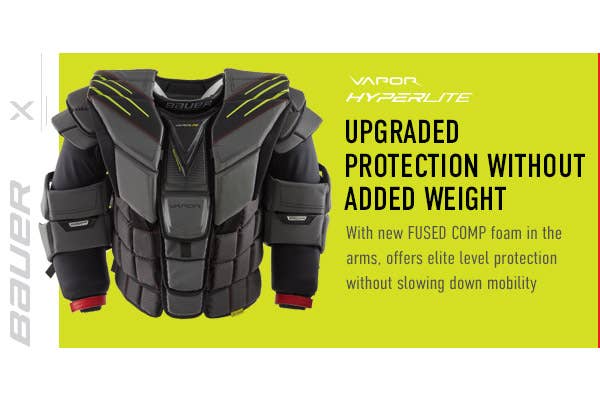 With new FUSED COMP foam in the arms, the Bauer Vapor Hyperlite Pro chest & arm protector offers elite level protection without slowing down mobility. Kill rebounds in the sternum with a new foam that absorbs impacts called Rebound Control Foam. Better coverage than the 2XPRO chest, but more balanced. Features the added adjustability from Supreme, new shoulder caps and an all-new improved protection called FUSEDCOMP. It's as light as the 2XPRO and has much better balance on the body with an all new harness.