Back to Hockey: Helmets & Masks

Helmets and masks are a crucial part of every hockey player's and goalie's kit. Manufacturers are pushing the limits, making helmets and masks lighter and more protective than ever. Here's a look at the top helmets and masks for the new season. Shop with HockeyMonkey and return to the rink in confidence.
Hockey Helmets
New SHOCKLITE foam technology is built into all 5 key zones of the helmet for lightweight protection and comfort without sacrificing impact performance. Features an optimized shell thickness and new high cut occipital, optimized comfort padding coverage, plus tool-less ear covers and low profile ear loops. Faster Design By integrating new features with Bauer's FreeForm adjustment system, there's optimal ear and head positioning, creating a sleek look inspired by the speed of today's game.​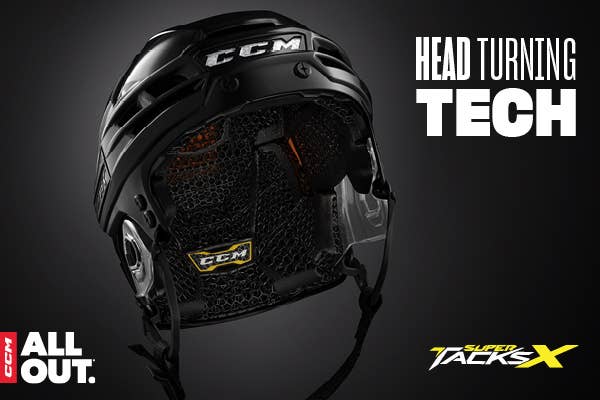 The SUPER TACKS X hockey helmet is a marvel of innovation. Its continuous fit liner was engineered using state-of-the-art 3D printed Nest Tech technology throughout the helmet, keeping your head cool so you can maintain peak performance all game long. With elite level protection and comfort, you'll turn heads at every faceoff.

Goalie Masks
Bauer NME VTX Certified Straight Bar Goalie Mask
The durable, lightweight nature of VTX Technology keeps your head in the game. With a mix of PORON® XRD® Foam and VTX liner, you get a perfect combination of next level protection and light weight, making it second to none. TeXtreme® is the most advanced reinforcement around, ready to meet your competition head on. With an impressive reduction in weight by at least 20%, this groundbreaking technology offers uncompromising impact strength, giving you heroic protection for the toughest sport on ice. Impact protection is only half of the game. Without added comfort, the final buzzer feels like an eternity away. With IX-Foam inserts, your helmet's coverage areas are secure and padded against any impacts they may throw at you, so victory is the only thing on your mind.x


---
Warrior Ritual R/F1 Pro Certified Straight Bar Goalie Mask
A holistic approach to head protection focused on safety first. All shell and liner compositions are integrated by design. A combination of X Foam and Dual-Density Molded IMPAX foams, the OMNIshock+ design provides ultimate protection against puck impacts and collisions within the crease. Warrior's most advanced impact absorbing foam provides a targeted barrier on impacts to the forehead and works in conjunction with the outer shell to protect against injury. The R/F1 chin maximizes mobility without sacrificing protection so the goalie can efficiently move their head with minimal chest protector interference. This makes tracking pucks into the body and watching plays behind the net effortless.

---
CCM Axis A1.5 Certified Straight Bar Goalie Mask - Team
The AXIS A1.5 goalie mask is designed to be as comfortable as possible with its foam liner and adjustable foam chin cup. Built to protect, this goalie helmet provides maximum visibility of incoming clappers for optimized focus. Polycarbonate shell with multi layered VN foam liner and carbon steel cage. Adjustable foam chin cup and terry cloth fabric sweatband.


---
Bauer 940 Certified Straight Bar Goalie Mask
Features a new elite level Fiber Comp shell. New stretch spandex chin cup with new vision wire and a new backplate. Airflow Liner With Soft VN Foam. Cage features enhanced puck view certified wire. Features a polycarbonate backplate with occipital support featuring VN Foam.

---
CCM Axis Pro Certified Straight Bar Goalie Mask
The perfect goalie mask should offer protection without weighing you down and should offer incredible visibility without sacrificing coverage. This helmet gives you all of that and more! Built with pro carbon fiber shell Sigmatex, a fluid inside pod matrix liner and D3O Smart Material, The AXIS goalie helmet is a marvel of design and technology that will provide lightweight strength and protection the minute you hit the ice. Stainless steel cage composition with bumper paint protection. Triple density foam chin cup with D30.