Back to Hockey: Hockey Protective + Goalie Leg Pads, Catch Gloves & Blockers
Protective gear is essential, giving you the confidence to take on everything that comes your way. Companies are constantly seeking ways to make protective gear lighter and more mobile while keeping you as protected as possible. Here's a look at the newest top protective lines for the new season. Shop with HockeyMonkey and return to the rink in confidence.
AMP technology gives you optimal movement and full range of motion without restriction. ADAPTIVSkin is Bauer's new protection system that gives you a significant layer of defense while conforming to your body shape. Be confident playing in traffic without any compromise on your ability to be fast. A THERMO COREliner is infused with an anti-microbial and anti-odor sweat management system.

Goalie Leg Pads, Catch Gloves & Blockers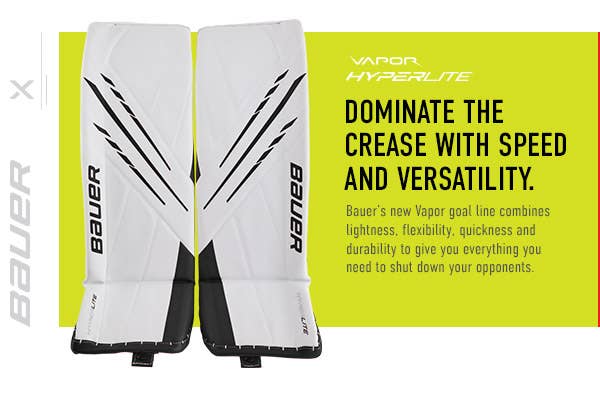 Built with a brand new knee bracket, Stabiliflex, which is 30% lighter and provides 25% more flexibility compared to Stabilislide from Supreme. To give goalies even better rebound speed and at the same time a more flexible, even lighter pad core, we developed REBOUND BOOST CORE – a new foam never before used in goalie pads. Features an added Balance Plate, a pillow at the calf to give you never-seen-before balance and ice seal. The glove features the best out of the box closure with more CatchLite material and better pocket depth and shape. The blocker features Rebound Boost Core for faster rebounds and better rebound control.

Take control of the game. Control Rebound Technology lets you decide where the puck goes next. With Dual1teCore Technology, there is added stiffness above the knee to give you the ultimate seal, stability and sliding, with added flexibility below the knee and into the boot for great reactivity and powerful pushes. The EFLEX 5 goalie glove is a mix of cutting-edge technologies that work together to help you bring your A-game while keeping your goalie equipment flexible and responsive to your every move. The EFLEX 5 hockey goalie blocker is a top-of-the-line rebound deflector offering the latest in technological advances and protection against high-velocity clappers.