Skates are some of the most important pieces of equipment in your bag, and as we return to hockey, it's time to take a look at what is new. Companies have produced skates with newer and greater tech than ever before, and we've rounded up the newest skates in one place. Shop with HockeyMonkey and return to the rink in confidence.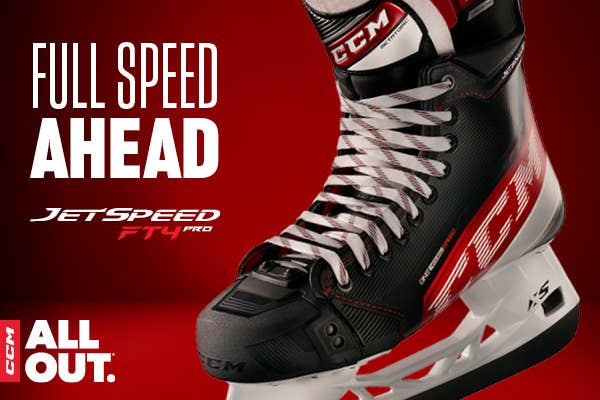 The Jetspeed FT4 Pro features CCM's highly advanced One-Piece Boot Speed Technology, gives you more direct energy transfer, optimal fit - perfect for those faster strides. Partnered with a Step Blacksteel (+4mm), the highest quality steel with carbon coated technology for superior edge hardness. The asymmetrical toe cap design ensures better toe shape and optimizes volume distribution for improved fit.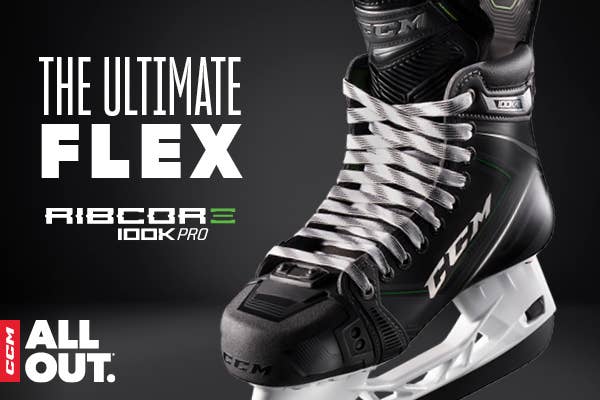 CCM's first ever One-Piece Boot with ultimate Flex Technology. Say hello to the new Ribcor 100k Pro featuring CCM's innovative One Piece Boot. Designed to increase your range of motion while optimizing energy transfer, increase performance and provide max forward flexion. Paired with a Step Blacksteel (+4mm), made with the highest quality steel and featuring carbon coated technology for superior edge hardness and the smoothest glide. CCM's new flexmotion tongue was designed to help players get deep into your strides, closer fit and lace bite protection.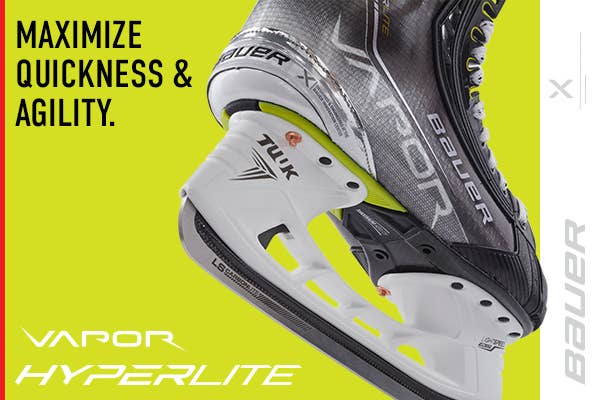 The Vapor Hyperlite skate introduces Hyperflex Technology, integrated flex zones to increase wrap and forward flex for greater side-to-side stability while the Hyperflex Outsole is uniquely constructed with a first-of-its-kind material, positioned in the heel to maximize quickness in acceleration and agility through turns. Aerolite foam material helps create a lighter skate, while maintaining the right amount of support, comfort, protection and flexibility. Gain an edge with your choice of steel: Carbonlite, Pulse Ti, or Pulse.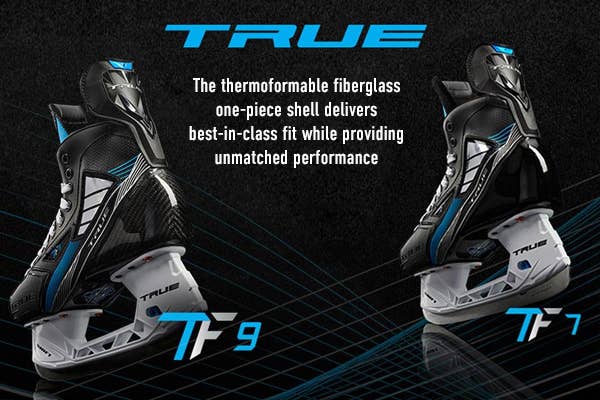 The TF9 is designed for players seeking the performance benefits and best-in-class fit that's synonymous with TRUE skates. Through its thermoformable carbon fiber one-piece shell, versatile SHIFT holder, and adjustable tongue system with Pro-grade tongue, the TF9 skate delivers elite performance and best-in-class fit. The TF7 delivers many of the performance benefits of True's proprietary skate technology. The thermoformable fiberglass one-piece shell delivers best-in-class fit while providing unmatched performance. The TF7 also features the versatile SHIFT holder for rapid blade replacement.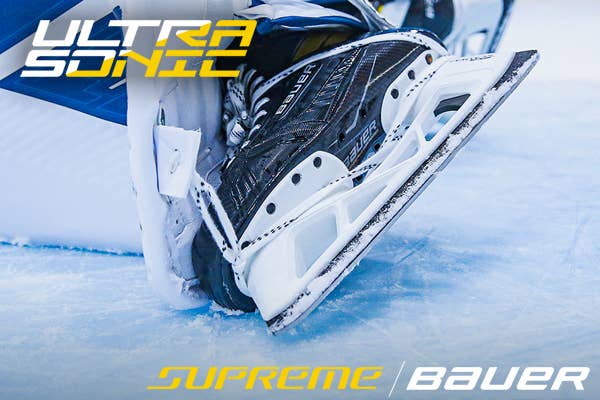 The Ultrasonic Goal Skate is for the elite goalie. Bauer focused in on 3 key areas: best weight, best attack angle, and best energy transfer. Weight has been shaved by continuing to use a Curv composite quarter and by adding AEROFOAM PRO ankle padding to provide great comfort with lightweight features. A smaller profile asymmetrical toe cap gives Bauer the best attack angle on the market. And for energy transfer Bauer utilized UNIBODY TECHNOLOGY for better pushes out of the butterfly. With the debut of Ultrasonic skates, Bauer is introducing a new depth and fit. This added depth to the ankle provides better out-of-the-box fit and added stability.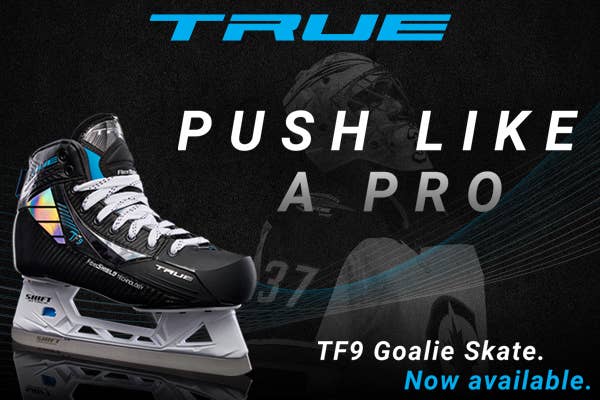 The 2021 TF9 stock goal skate is designed for goalies seeking the performance benefits and best-in-class fit that's synonymous with TRUE skates. TRUE's proprietary high-grade carbon fiber one-piece shell construction and FIBERSHIELD Technology, TRUESHELL Tech seamlessly wraps the toe box, eliminating weak points around high impact areas and providing superior protection. 3mm SHIFT stainless steel blades provide lightweight design, lasting edge, and ultimate performance when moving laterally, while the improved strap passages accommodate all strap sizes for secure pad attachment. The ultra-comfortable Neoprene Achilles cuff allows for full ankle extension and mobility, while the exterior, low profile loop accommodates all strap sizes for added secure pad attachment.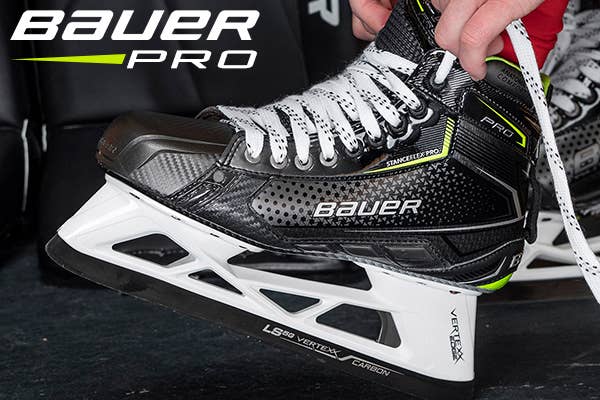 Features new STANCEFLEX PRO with CURV quarter which allows for flexibility and movement, but major stability and structure down low. The comfort collar fit has been adjusted to be more anatomical, durability is improved with new PRO Laces, and there's a reinforced liner. Features LS5g runner but now in the goalie specific AGILITY profile.

Goalie skates are as important an element of a netminder's equipment as anything else. You need to move fast and flex comfortably between the pipes and the SUPER TACKS AS3 PRO goalie skates have a mix of technologies and lightweight construction materials that will help you do just that. Featuring a full one-piece boot monoframe technology which directly results in ultimate energy transfer for faster movements. Rocketframe composite combines a super lightweight boot with NHL caliber protection.